Point cloud to mesh modeling is one of the core services we provide our clients with apart from Point Cloud Conversion, Point Cloud to 2D and 3D Modelling. Over the decade-long year of experience, we have had a notable number of satisfied clients in the residential, commercial industrial & hospitality sectors.
The point cloud to mesh service we provide at Advenser is focused on developing meshes that can be used by our clients as stand-alone 3D objects or as mesh models into which 2D sequences can be projected using the project3D node.
What do we do as a point cloud to mesh conversion service provider?
Advenser over the years has grown to be a leading BIM service provider catering to the BIM and drafting needs of the AEC industry. As a point cloud conversion service provider we are capable of converting your point cloud data into
Polygon mesh
Triangle mesh
NURBS surface models
The skilled team of engineers at Advenser are capable of handling point cloud to mesh conversion from the following inputs
LIDAR scan
RGB-D images
Multi ray Photogrammetric images
Stereo imagery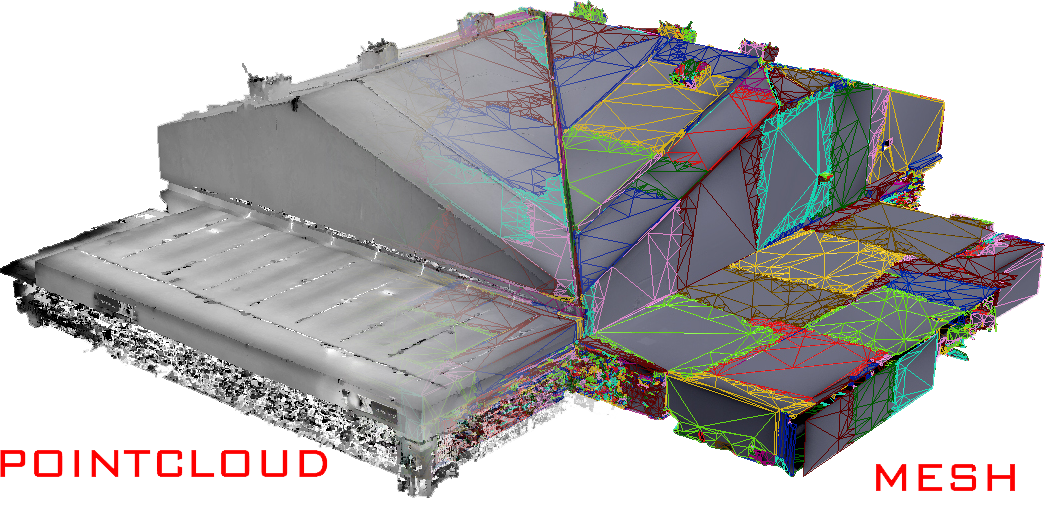 Conversion of point cloud to triangular/polygonal meshes which satisfy high modeling and visualization demand is one of the most requested tasks when managing a 3D scan data.
The experienced team of engineers at Advenser uses a unique mode of approach towards converting the unorganized point cloud data into a mesh depending on the
Quality of input data
Spatial Subdivision
Type of representation of the surface
Assumptions of Algorithm
Once the mode of approach has been determined we follow a proven 5 level method for point cloud to mesh conversion which are
Sub Sampling
Normal Reconstruction
Surface Reconstruction
Recovering the original colors
Cleaning up and assessing
The Quality Assurance We Give
For the last decade, we have completed an umpteen number of projects involving point cloud data. We make use of this experience we have as an addition to the skill set our engineers possess to deliver point cloud conversion jobs with exemplary quality. We understand the vitality of mesh models when it comes to mechanical modeling, so does the quality team with a close eye for details we have in-house. They are responsible for closely monitoring every stage of the design process to ensure that strict quality adherence and industry standards are being followed.
The successful track record we have over the past decade along with the wide array of clientele we have speaks for the trust our clients have on us.
Top reasons to hire Advenser?
Quick turnaround time
Competitive prices
A skilled team of modelers with 8+ years of experience
Availability of a dedicated team of in-house quality analysts
10+ years of experience
Proven track records
STRUCTURAL POINT CLOUD MODELING
INTEGRATED POINT CLOUD MODELING
ARCHITECTURAL POINT
CLOUD MODELING